Robert J. Shapiro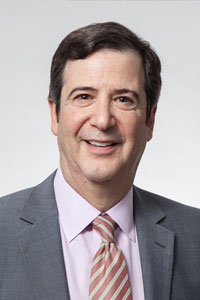 Overview
As the chairman of Sonecon, Robert J. Shapiro's broad knowledge and experience in economics and politics are respected among senior officials of the U.S. and foreign governments, in the executive suites of businesses, and by media around the world. He has developed and advanced many policies adopted by Presidents Clinton and Obama and by other world leaders, covering tax, regulation, trade, and government spending.
Robert J. Shapiro - Biography
In addition to his responsibilities at Sonecon, Dr. Shapiro is also a Fellow of the McDonough School of Business at Georgetown University, chair of the Globalization Initiative at NDN, an advisory board member of Gilead Sciences and Cote Capital, and a board member of the Carbon Tax Center and Medici Ventures.  Before founding Sonecon, Dr. Shapiro was the Under Secretary of Commerce for Economic Affairs (1997–2001). In that position, he directed economic policy for the Commerce Department and oversaw the nation's major statistical agencies, including the Census Bureau as it planned and conducted the 2000 decennial census. Before that, he was co-founder and Vice President of the Progressive Policy Institute, Legislative Director and Economic Counsel for Senator Daniel P. Moynihan, and Associate Editor of U.S. News & World Report. Dr. Shapiro also was the principal economic advisor to Bill Clinton in his 1991-1992 presidential campaign, developing the economic case that inspired political advisor James Carville's phrase, "It's the economy stupid." Since then, he has advised every Democratic presidential candidate on economic issues, including President Barack Obama and Hillary Clinton in 2016. He also has advised many senior members of the Obama and the U.S. Congress, , as well as senior executives of Fortune 100 companies and major non-profit institutions   Dr. Shapiro also has been a Fellow of Harvard University, the Brookings Institution, the National Bureau of Economic Research, and an advisor to the International Monetary Fund. He received an A.B. degree from the University of Chicago, a M.Sc. from the London School of Economics and Political Science, and an M.A. and Ph.D. from Harvard University. He is widely published in scholarly and popular journals, and the author or co-author of three books.
AFFILIATIONS
Senior Fellow of the Georgetown University School of Business
Director of the Globalization Center at NDN
Advisory Board Member of Gilead Sciences and Cote Capital
Board Member of Carbon Tax Center and Medici Ventures
AREAS OF EXPERTISE
Globalization
Industry studies
Financial markets and regulation
Taxation and public
U.S. economy
Environmental economics
The economics of information and Internet technologies
Telecommunications regulation
Foreign investment